Featured artwork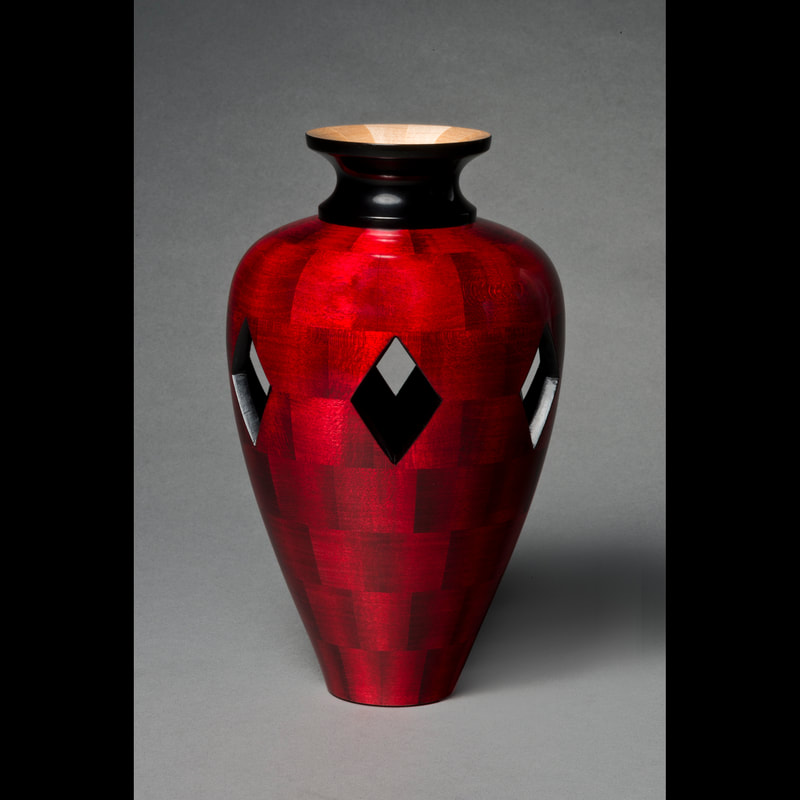 Red Diamonds
Segmented maple vessel with diamond shaped windows, cut after the vessel was turned. Red exterior with Black neck and rim, clear maple inside, high gloss lacquer finish.
5.25" Diameter x 9.25" Tall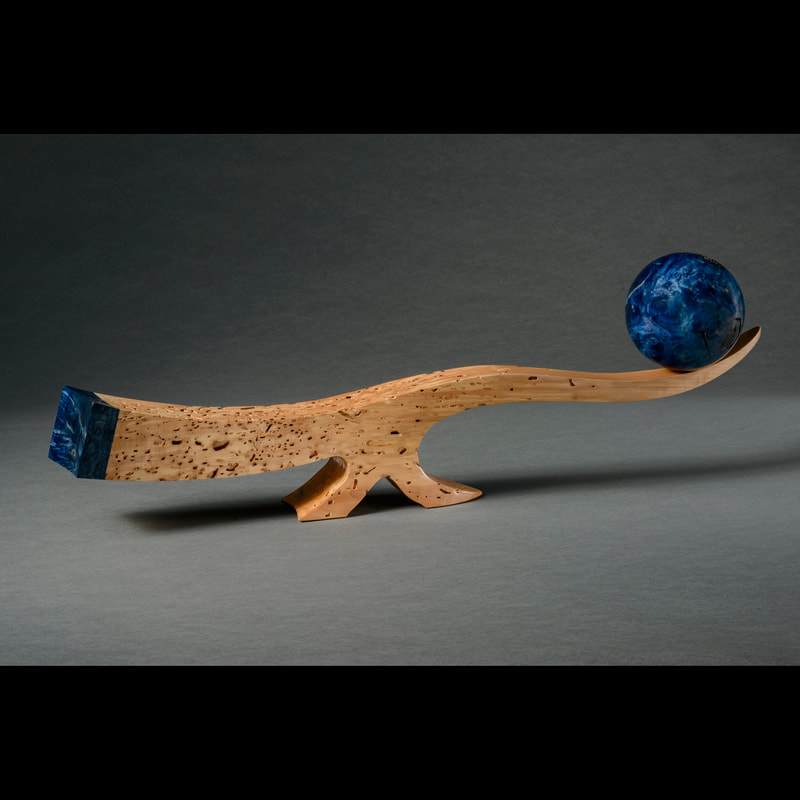 Survivor
Balanced Sculpture - One solid piece of naturally distressed Maple was shaped by hand to create the base. The added end cap and sphere are Buckeye Burl, dyed Blue.
2023 Art Festivals
​
Please join us at the following events in 2023 (more may be added as scheduled are worked out)Magic City Art Connection: Brimingham AL - April 28 - 30
One America Broad Ripple Art Fair: Indianapolis, IN - May 20 - 21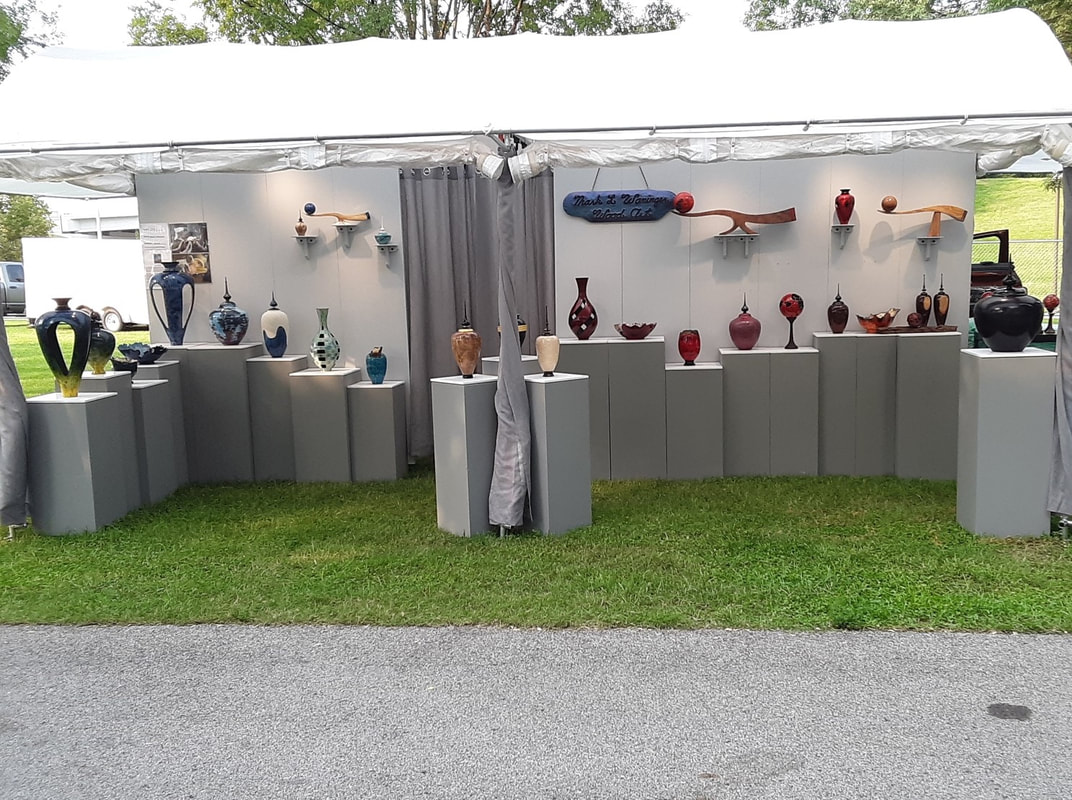 Artistic Vision + Detailed Craftsmanship + Originality =
MLW Quality Wood Crafts
Specializing in segmented WoodTurning

Native Indiana Hardwoods are complimented with fine exotics to provide visual contrast or accents. These unique segmented woodturnings result from the applied combination of artistic creativity, precision joinery, and skilled lathe work. Doing much of his work from downed trees or repurposed lumber, Mark prefers to mill his own turning blanks or boards, allowing the opportunity to carefully control the direction of the wood grain and monitor the moisture content through the entire process to assure stability in the finished work.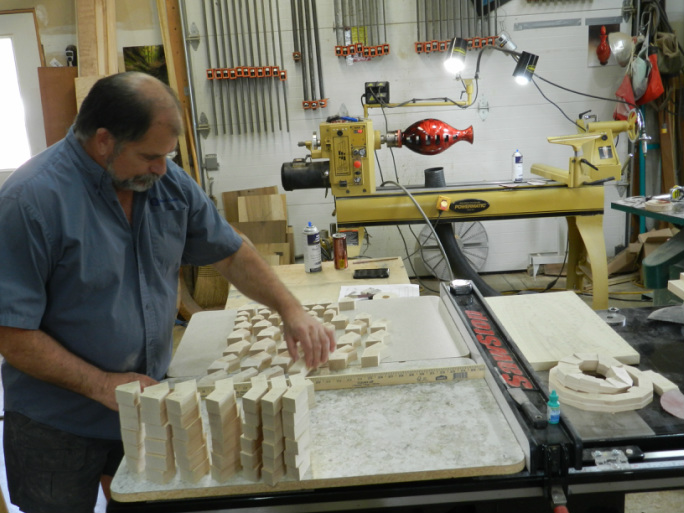 Why segmented woodturning is an art

Woodworkers in Indiana have been utilizing the characteristics of the native lumber to add beauty and intrigue to their creations for centuries. In that same tradition, these pieces of artwork are the result of individual ideas that come together to best highlight and contrast the colors and natural beauty of the wood. The right selection of native Indiana hardwoods or complimentary exotic species is one of the keys to the appealing style of the final product. The next new piece begins to take shape as the initial chunks of wood are transformed by the careful application of tools and skills, working until the final piece is a close resemblance of the initial concept.

Mark's Explanation of his artwork:

"Each piece starts as a mental image of some unique possibility. It is exciting for me to imagine what may result from the deliberate pairing of rough-sawn chunks of hardwoods. Using the natural characteristics of the wood is often helpful in determining the end result. A sketch is usually drawn to better solidify the lines and curves needed to form the image. The vision is then transformed into something constructable. Each finished product is the result of many individual pieces, called segments. Every segment is laid out, cut, and carefully fitted to its unique position in the overall rough form. From there, the project is moved to the lathe, where the originally envisioned possibility spins into reality. As the excess wood is cut away, a newly created piece of art gradually takes shape."